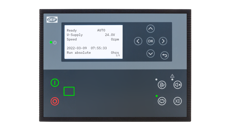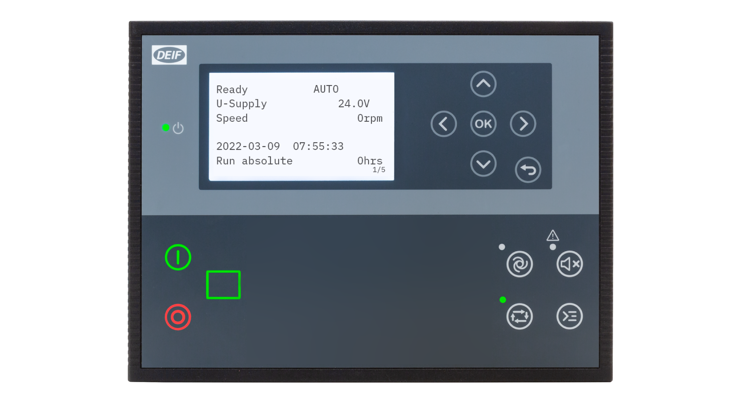 The AGC 150 Engine Drive Marine is a cost-effective and user-friendly engine controller. It controls engine start and stop sequences, including simple fixed and variable speed functions for pump or sprinkler applications, and it provides engine protection.
The robust controller is designed for standalone applications. Developed specifically for marine use, it is adapted to the tough operational requirements in demanding applications at sea.
Wide range of input and outputs
The AGC 150 Engine Drive Marine offers a wide selection of configurable inputs and outputs, including CANbus ports for connecting an additional operator panel and an Ethernet port for Modbus communication or for configuring the unit using DEIF's free PC tool utility software.
The perfect display for international shipping
The LCD on the AGC 150 Engine Drive Marine displays important information quickly and is readable even in sunlight. The illuminated buttons smoothly guide the operator, making it very easy and intuitive to operate. Only buttons relevant for a function are visible, and users can access commonly used functions with configurable shortcuts.
On-screen texts can be displayed in 10 languages, making the AGC 150 Engine Drive Marine well suited for international shipping.
Uncompromising quality
The IP65 certified front-mounted controller is made of robust materials, built to last, and easy to install. It has undergone several tests showing that it stands the wear and tear of even harsh marine environments. The controller meets Tier 4 Final/Stage V requirements.
Can be hard-wired to DEIF power management solutions
The AGC 150 Engine Drive Marine is an ideal engine control solution when you do not need a synchronising power management controller. However, it can be hard-wired to a power management controller such as the DEIF PPM-300 to provide cost-effective engine control in the PMS.
Contact us

Hans H Tvergaard

Teamleader & Product Manager