Product life cycle information
DEIF policies regarding product life cycles (EOL) and spare parts
We have established this end of life (EOL) policy to help you keep your assets operational and reliable, and to help you achieve a smooth transition to new product lines or plan for a phase-out when a product reaches EOL. The policy is part of our commitment to provide industry-leading products and services.
Standard products only
The policy applies to DEIF standard genset controller products only and does not cover customised products or solutions (including products that represent modifications or adaptations (hardware and/or software) of standard products to accommodate individual customer solutions). Special EOL terms may be included in individual agreements covering the supply of such products.
Product life cycle overview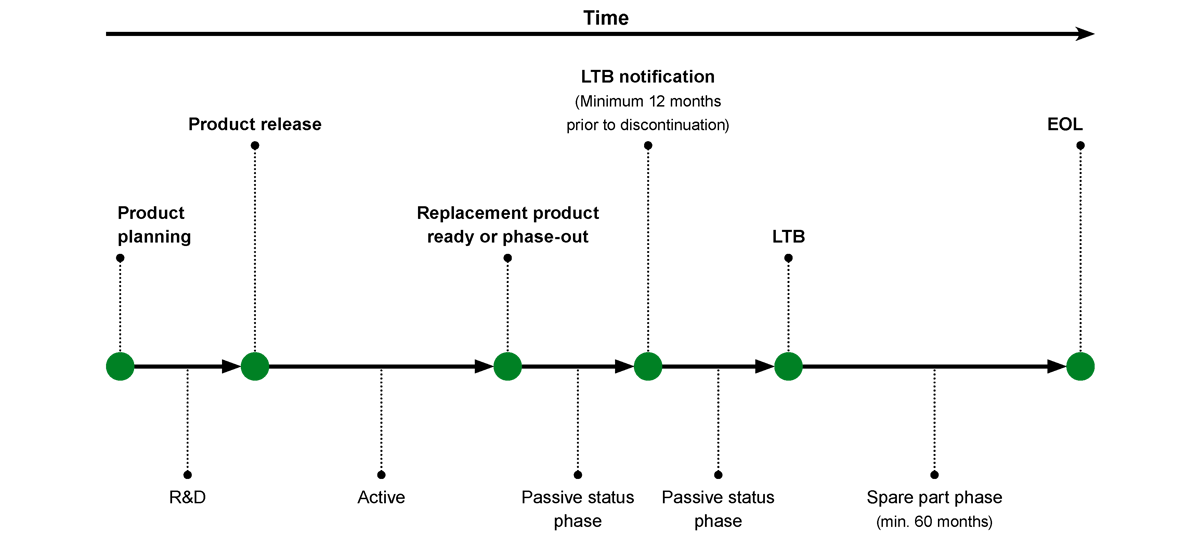 Passive status phase
When a product reaches the end of its active phase (because a replacement is available or because the product type will be removed from our portfolio), it enters the passive status phase. This is announced on www.deif.com and in data sheets. We halt product development and advise against further incorporating of the product in new designs, recommending suitable alternate products instead.
Last time buy (LTB) notification
In the passive status phase, we endeavour to notify you of the last time buy (LTB) date at least 12 months in advance, if you have purchased the product within the two previous years. The notification is sent in connection with termination of serial manufacturing and/or stocking of products.
The notification will state the LTB date (final order date) and last shipment date (final delivery date). We will also advise you of suitable replacement products. If you place new orders for a product after receiving a LTB notification for that product before the LTB, those orders are non-cancellable and non-returnable.
Spare part phase
After the LTB date, the product enters the spare part phase. We aim to maintain stocks of critical wear & tear parts for a minimum period of 60 months (marine approved products) or 36 months (other products) after the LTB date.
Purchase orders received after the LTB date are considered spare part orders and subject to component availability and manufacturing capacity. Special lead times and price mark-ups over previous list prices apply. List prices, previous price quotations, and previous lead times no longer apply for orders placed after the LTB date.
In the spare part phase, we can suggest suitable replacement products with similar functionality at list price and under the standard terms applicable to the product in question.
After the spare part phase, the product reaches EOL. You can no longer purchase it from DEIF or get spare parts.
Contact us

Torben Bech

Sales Manager, DEIF DK - Sales