Control solutions for ancillary services
As a power plant owner, you can generate additional income by selling surplus power or capacity as ancillary services to your transmission system operator (TSO) or independent system operator (ISO). By doing so, you help the operator maintain and restore balance and stability in the power grid.
What are ancillary services?
Ancillary services ensure that the grid works properly by correcting frequency and voltage in response to supply and load changes. This task is handled by TSOs/ISOs, often with the help of external capacity, thereby opening up a fast-growing market opportunity for power plant owners.
How do you get started?
To deliver ancillary services, you need a power control solution capable of communicating with the balance responsible party (BRP; sometimes identical with the TSO/ISO), executing orders for ancillary services as agreed while maintaining an overview of your current capacity.
DEIF can help you design and implement such a control solution for new or existing power plants. We have decades of experience in power control, and we have cooperated with major clients on setting up the required control solutions.
Full range of controllers for any power source (including the AGC-4 Mk II, AMC 600, and iE 250) that enable ancillary services while performing power management, asset protection, and other tasks

Cutting-edge software that provides reliable capacity forecasts for wind parks, fallback operation for continued performance during communication breakdowns, and more

Global presence providing application support and expert consultancy on all continents
Strong track record of successful solutions
We have successfully completed several projects with power plant owners, TSOs/ISOs, and other stakeholders. For example, we helped a battery storage provider provide fast frequency response (FFR and FCR) using DEIF AWC 500 and AMC 600 PLCs. We designed a control solution enabling a wind farm to provide manual and automatic frequency restoration reserve (mFRR and aFRR) services using AWC 500 controllers. And we worked with a broadcasting corporation to provide manual frequency restoration reserve (mFRR) services from its onsite emergency power system using AGC-4 Mk II controllers.
Who can contribute?
Whether your plant qualifies for delivering ancillary services depends on where it is located, how quickly it can deliver the agreed services, how long it can sustain them – and on the requirements of your TSO/ISO.
Businesses and sectors that are frequently able to sell ancillary services include:
emergency power plants with onsite generators or batteries
renewable power plants such as wind farms or solar parks (with accurate forecasting tools)
purpose-built thermal or battery energy storage systems
hotels, industrial facilities, stadiums, and shopping malls (that generate surplus power from HVAC or pumping systems)
Contact us to discuss your options
Would you like to know how you can generate extra income from your power plant, and contribute to a stable and balanced power grid? Contact us for more information!
Global Business Development Manager
+45 9614 9614
|
More about ancillary services
Ancillary services are not new, but they are changing, and they are becoming increasingly important.
Counteracting increasing instability   It has always been important to balance supply and demand in power grids to avoid brownouts, blackouts, and other instability issues. However, balancing is becoming more important for two reasons. First, the increasing share of renewables on the grid makes power supply less predictable; second, changing consumer patterns lead to load changes that need to be accommodated to satisfy the increasing global electricity demand. As part of the green transformation, traditional balancing suppliers like CHP plants are gradually being phased out, creating a rapidly growing need for support services from other sources.
Two general types of services   Ancillary services can roughly be divided into two types: primary reserve services that respond very quickly to stabilise frequency deviations; and slower secondary reserve services that restore balance to the grid by getting the frequency back to normal. They often take over from primary reserve services, freeing them up for the next deployment. A TSO/ISO will need access to both types of ancillary service, depending on the imbalance to be corrected.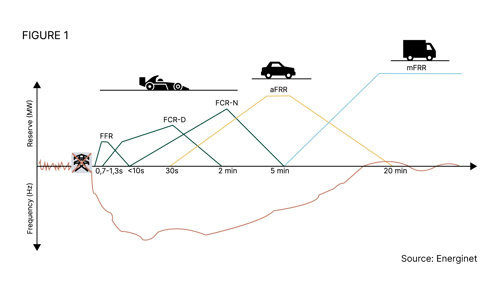 Primary reserve services include fast frequency response (FFR) and frequency containment reserve (FCR) services; they have limited capacity but can be deployed almost instantly, for example using batteries. Secondary reserve services include automatic and manual frequency restoration reserve (aFRR and mFRR) services. They provide more power than primary reserve services and are allowed more time to ramp up; secondary reserve services can be delivered using generators, for example.
Depending on their preferences and on their capacity to provide the requested services, power plant owners bid for the opportunity to provide one or more ancillary services on a real-time or day-ahead market basis. Auctions are held by the TSO/ISO. A power plant owner who wins a bid commits to delivering the agreed service as and when needed for the time frame specified in the auction.
Ancillary services are typically delivered by supplying additional power to the grid, but grid balancing can also be achieved through other means. For example, a major consumer can reduce the load on the grid by voluntarily disconnecting from the grid (temporarily running on power from onsite generators or batteries), thereby freeing up grid capacity.
Rapidly growing market   The market for ancillary services is rapidly growing. In the UK alone, the ancillary services of the national grid move 300 TWh of electricity every year. In 2021, the Danish TSO Energinet spent DKK 1.4 billion (approx. USD 200 million) on ancillary services; the highest price level ever, and one that is expected to rise as the grid increasingly goes sustainable. In the first half of 2022, the Belgian TSO Elia spent EUR 168.1 million (USD 182.1 million) compensating for imbalances versus EUR 101.6 million (USD 110 million) in the first half 2021; an increase of 65.4%. And according to a Transparency Market Research report, the global ancillary services market is estimated to reach a value of USD 16 billion by the end of 2030.
Platforms for a balanced and stable grid   Grid companies and national and regional authorities are taking steps to develop a regulated and well-structured market for ancillary services, providing the governance platform for a balanced and stable power grid. In Scandinavia, for example, the Nordic Balancing Model programme is intended to ensure coordinated control, development, and execution of the Nordic ancillary services market, and in the EU, the PICASSO and MARI balancing platforms shall contribute to a balanced and stable European grid and make the green power transformation possible.
Contact us

Rene Kristensen

Global Business Development Manager