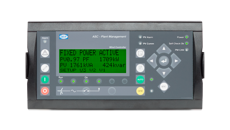 The DEIF ASC-4 Wind is a programmable sustainable controller that allows integration of one or more wind turbines in any power plant. It is ideally suited for hybrid microgrid applications, particularly in a power or energy management system (PMS/EMS) with other intelligent DEIF controllers such as the ASC-4 Solar, ASC-4 Battery, and AGC-4 Mk II.
Turbine and park communication
Using Modbus communication, the ASC-4 Wind can communicate with a single wind turbine (interfacing with the turbine's built-in controller) or with an entire wind park, acting as a link between the wind park power management (WPPM) system and the PMS/EMS. Depending on the capabilities of the turbine controller or WPPM, the ASC-4 Wind can be configured to send and receive set points or start/stop commands, and it can be used for breaker control.
Maximising green power
When deployed as part of an EMS/PMS, the ASC-4 Wind is included in the control strategy of the power plant, balancing the available sources to deliver the required load while maximising renewable power penetration. Its built-in Q factor control allows the ASC-4 Wind to stabilise the power factor of hybrid microgrids if the voltage or frequency is temporarily unstable.
In addition, its built-in curtailment counter gives you a useful overview of surplus wind power production. These features help you improve operation planning and control, for example by helping you identify excessive use of gensets and adjusting operating strategies accordingly so you can maximise wind power use in your applications.
Fully customised solution
The ASC-4 Wind is available as a fully customised solution for specific projects. Contact us to discuss your requirements and find a solution that lets you integrate wind power in your plant.
Contact us

Jacob Danielssen

Product Manager